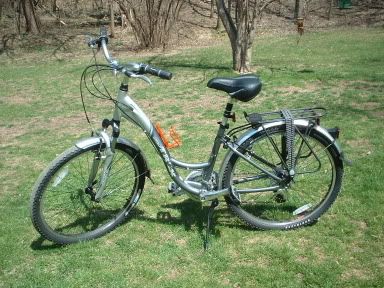 There she is. The bike looks heavy but is really light. The fit is nice as it is a comfort bike. So far the only thing I am not very happy with are the mud flaps, my feet hit them. They might have to go. We are getting ready to go out to Adam's Homestead for the 11 mile bike loop. That should break it and me in. Hope it was put together well as it is a long walk if if breaks down. I put a bright red bottle holder on it as I am not happy how dull the color is but that is the only color it comes in. Sigh, how boring.
I am down another pound today. Must be the riding plus I just don't eat as much in this weather and I have been getting my water in. Well, must go for my lovely bike ride on my lovely new bike.
Well the ride was brutal but fun. The first half was in the wind which was blowing around 20 to 40 MPH. I, of course immediately started getting chest pain. The bike was fantastic. So much easier once I got used to the shifting to pedal agains't the wind then my old bike. I had a sleeveless top on and I got as much wind burn't as sun burn't. The 2nd part of the ride was easier with the wind to our back but we did only do 7.8 miles today and cut it short. I didn't let Rick know how much chest discomfort I was having as it worries him but I felt it best to not over do it. It was 80 degrees out which didn't help. Anyway the bike is a huge success. I drank a ton of tea so I stayed hydrated. Tomorrow I will do water aerobics which should be much cooler and then work out for awhile on the weights. Spring is here and we tied a record for temp. Well, I am off to bed to read for awhile and then sleep. I am tired. I also am getting a rash all over. I think the penicillin isn't agreeing with my. One thing after another. Such is the life of a sensitive flower, yah right!