We had a lovely ride. The trees seemed to have gone from green to brown, no fall colors but it was a lovely ride. We only did 10 miles as we got a late start and had to get supper ready before Dan went to work. As you can see I don't wear the regular biker shorts and head gear. I do wear half gloves though as I get blisters for the grips. I tried to get some pictures in an album but it never works on this site.
.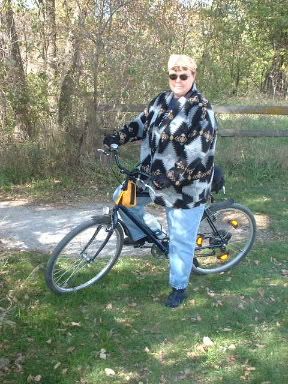 One thing we think is very amusing on our ride out there is one of the lookouts. They have them over looking the lake and another at an area where dear and wild turkey hang around. Then our favorite, the yuppie lookout. You go to it and if your lucky you can see yuppies in their natural enviroment. It looks out over some expensive big blocky yuppie houses.
The yuppie outlook
You have to be quiet not to scare them away. Shuuuuuuuu
You occasionally see them on the trails. They have matching riding outfits if it is a pair and they always wear a helmet with the little mirror on the side. The female is usually as bright as the male. Sometimes we see them when we go camping and it is always a treat to see the matching backpacks and the hand carved walking sticks they use. Of course they are very easy to spot at the gym, cute little outfits and pulse watches to tell them when to stop before they sweat. We aren't as populated as the bigger towns so it is a treat to have this outlook. It is extremely rare though to see them out in the elements as the air isn't as clean and pure as it is inside their box houses.
Anyway after our lovely ride we raced back to make supper. No brussel sprouts tonight as I didn't have time so will make them tomorrow. I ate 1620 calories today and had around 10 12 ounces glasses of water and tea to drink. I am floating.