We went walking down by the river yesterday and saw this truck. Just had to get a picture. Now to really see just how far off the beaten track they are check out the next picture.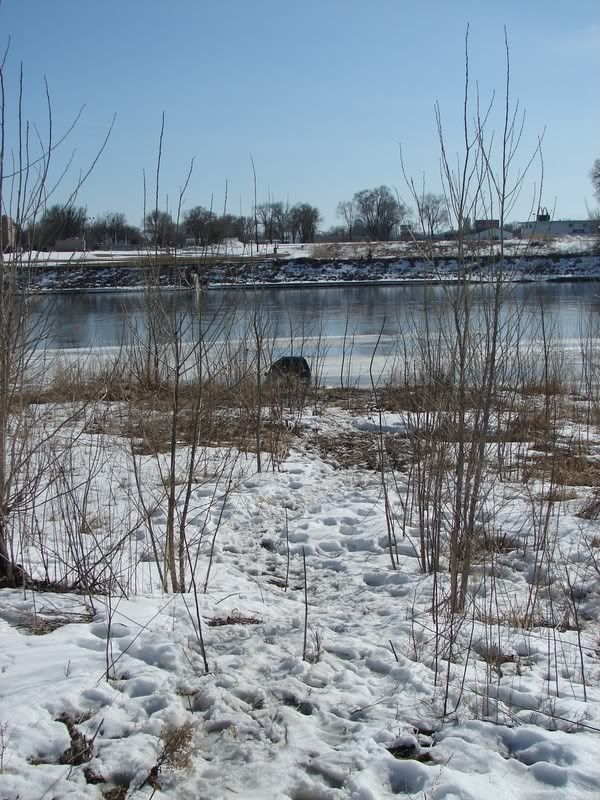 They had to drive quite a way to get to the river. The officer we talked to said it was either a suicide attempt or a stupid idiot who didn't want to carry his fishing equipment that far. Unfortunately suicide attempt is probably correct as it wouldn't be the first or the last time. This is by the gambling boat and a couple of people have lost big and just drove off into the river or jumped. The commericals always make it sound like it is so much fun to go to the boat and gamble but not for everyone, not for someone with a problem.
Today we are going to Omaha for a Bock fest. There will be the hot poker to put in the beer, the polka band and hopefully more warm weather. It was so nice to walk outside yesterday and enjoy the weather. Just wearing a light coat, the warmth of sun on your face. I saw robins and flys were buzzing around. Spring is coming. Soon the old crabapples will drop to be replaced by new growth.
I am feeling pretty good today. My armpit is better, still feel like a I have a crater in my mouth but it is down to one canker sore left. My knee bothered me alittle yesterday on the walk but not bad. I am on the mend. We are stopping at Blue Lake on the way to Omaha so I can hopefully get some geese pictures. The sun is shining. And I do think the ice fishermen had better rethink going out to the middle of the lake soon.