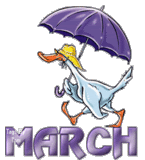 Well its rainy and gloomy out today. No bike riding today. Sigh. But the rain will bring new growth and that is a good thing. Since I can't ride I guess I will list some things for the store. I got a lovely antique chocolate german lusterware set today that I can list and a couple of teapots and things. I keep putting it off so today will be a good day for it. Then off to check on my MIL.
Now I really don't know how much money she has, but I do know she has enough for a cab in an emergency and she could eat better. She will buy the absolute cheapest groceries. Generic soups, TV dinners, white bread, (horrors) you name it. And it tastes like the cheapest also.
They have some really good TV dinners out there now a days. The weight watchers ones I eat and healthy choice are tasty and lower in sodium then alot of them. Those cheap soups she gets are just loaded with salt. I told her if maybe, just maybe... she would give in and lower her salt intake even a little she maybe, just maybe wouldn't need to be on 2 different blood pressure meds. But she is a stubborn woman. Food doesn't taste good without salt she complains. Learn to cook with something besides salt! There are so many wonderful spices out there. I never use salt and think my food tastes just fine, or I guess I should say Ricks food taste just fine. First thing she does when we bring her supper is salt it....Before she even tastes it! Darn woman. Please let me stay a reasonable and practical woman my entire life. I KNOW beyond a shadow of a doubt that if I was alone and elderly I would move into a smaller apartment so I could remain independent. Not my MIL. Oh I could never leave this house. ARGH. It she isn't careful it may be feet first as she totters down a staircase head first. She is getting so unsteady. I told her when you can no longer take care of your house it is time to look into a smaller place. I take care of it she says! No Mom, we do! Paint the kitchen, clean out the basement, new gutters, shovel behind the garage, take out the garbage. If I wanted to take care of 2 places I would be a landlord. Gee, can you tell I am frustrated?
OK, so enough witching here. I guess I'll get busy and get some work done. Can't make money unless I list it to sell. Also am getting busy on a ad for our dog and cat food we are distributors for. Now would be a good time to get some new customers. Which makes me wonder. Rat poison in the wheat gluten. Do we export that for any human food also? My neighbors cat is sick. She thinks its from bad food. So sad.