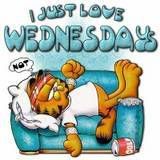 Well, its early and dark out. I am sipping my coffee and getting ready for the day.

We are taking my MIL to the doctor again this morning. Now all of a sudden we have relatives coming out of the woodwork telling me we aren't doing enough for her. I should be making her appointments, cleaning her house, making her do the things she needs to do.
Ok, he stays with my MIL for 1 day and is telling us stuff we know and have been doing for months. He calls all the other relatives and have them call us and tell us what to do. I start wondering what the hell dear ole mom's been telling them. Sigh. Butt out people. We are doing all those things.

This was all after I got some terrible news about my neice. I was upset anyway. But I was able to tell myself they were just concerned and count to 10. Ommmmmmm.
So hopefully we will get some things done today. They won't just give her more pills and send us on our merry way. They will listen to us and check some more things out. We won't spend over $100 dollars for them to say it was just because she is getting very old. I haven't made any plans other then that today.
I did get to talk to my brother yesterday which was nice. I don't get to talk to him often and then his phone screwed up so I couldn't call him. He is trying to get it fixed from his end. And I have a head pain for 2 days that is getting me annoyed. So the day isn't starting good which means is can only be all up hill from here.....right?