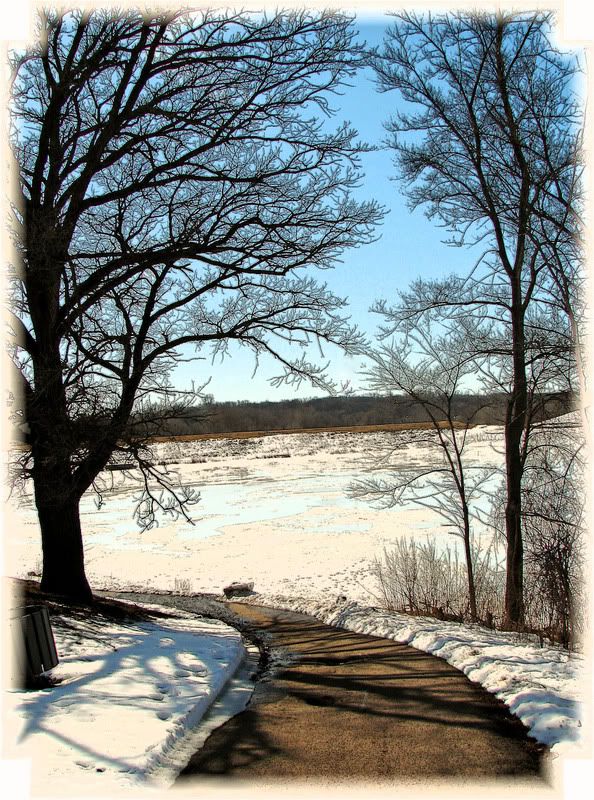 OK, I realize its a winter picture but I played with it in PSP and liked the way it turned out. Don't you?
Sunday already. I spent most of yesterday listing a few items in the shop and watching the rain. Boring day but necessary. Talked to my MIL and saw how her day was going. Could be better. Watched a movie last night and that was my day.
Today the sun is shining but it is still pretty wet out. Just this one rain has caused everything to pop. It looks green out now instead of the beige and browns I have seen all winter. What a nice change it is. I bought some bulbs yesterday to plant. I think it will be OK for those now.
I see the first class action law suits have started from the pet food deaths. Some lawyers are going to get rich over this and the poor pet owners will get a dollar. Don't even get me started on class action law suits. I have done my morning meditation and want to stay calm.
One thing that doesn't have me real calm. We have a public mail box 2 blocks away because I live on a used to be gravel road. It used to be gravel because I spent a fortune on gravel for it and the city grated my road once a week when it wasn't necessary and put all my gravel in the ditches. You can now drive in my ditch but not on the road because it is too muddy. But.....calm here Julie....Ommmmmmmm.
OK where was I? Oh yes, my mail. 2 days ago the mailman left me a box. Something I won off ebay. A teapot. Can't wait to see it.....but wait I will have to do. Why? The key doesn't work. We couldn't get it to work, the mailman couldn't get it to work. So my lovely teapot is trapped in the box. Who knows when they will come to fix it and what they will have to do to open it. From the looks of it the mailman tried everything short of TNT. Sure glad I insured it and if the post damages it they had sure better give me back everything including postage. Well, actually is classified a coffee pot. Here is what it will look like if I get it.
I am listening to public radio this morning. Their doom and gloom and we're all gonna die broadcasting. Sure hope it doesn't happen before my new bulbs come up so I can see the new flowers. Hope the sun doesn't get too hot, the meteor doesn't hit us, the global warming helps my plants, the carbon emissions don't pollute the litter filled ponds and crack my bike trail, and the bird flu just sticks with the really ugly over populated birds, like say pigeons. No....come to think of it I like pigeons. Oh well. Hope it stays sunny and all will be OK. For today at least.
Thought I would show a picture of my MIL and hubby. You all hear about her. Here is her sweet self.
Have a great day all.