And Thursday means to me........ My Week Off.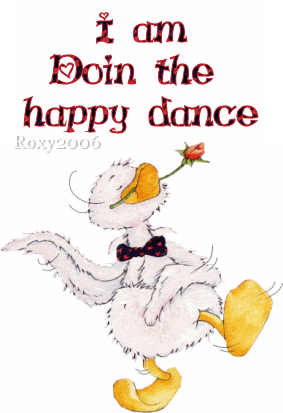 I am ready for it also. Still fighting these darn mouth sores and feeling yicky. Top it off I have a large swollen gland under my arm now today. Getting really sick and tired of being under the weather. I just know once the weather gets better I'll feel better.

Rick made the best stew yesterday. However not without suffering. Cutting the potatoes he cut the top of thumb almost off. Now I know what his secret ingredient is, LOL. I really thought he should get stitches. It was very deep and big. But NOOOOOOOOO he wouldn't go. So I patched him up and must say I did a very professional job, weird of me, but I always did like applying dressings. Now I can see the worst wounds imaginable at work but have it be someone I love, well it makes my heart twist.
My friend was buried very early today. I couldn't go because of work and it was out of town. Everyone at work is bummed out about it. He worked there for years and will be missed.
This afternoon I went to get my haircut. Make me look 20 years younger I said. I'm not a miracle worker she replied but it really does look better. I bet I look at least 20 days younger. Then I posted a few items, watched Soprano's DVD and am getting ready for bed. I am so tired. 3 hours isn't enough. I'll play catch up today.
Hope everyone is doing OK today. Spring is almost here. Here, I'll share a spring picture I took. Pretty soon we'll be smelling them.