It was wonderful, glorious, fantastic. My knee hurt, I am in terrible shape, but it was wonderful. I am sunburnt, tired, exhausted, happy, it was wonderful. I love my bike.
Only did 8 miles. It wasn't as hard as I was anticipating. I thought I had gotten in much worse shape. The first 2 miles my knee was killing me but it loosened up. Only averaged 9.8 mph which was way down. The sun was shining. The trails were packed. The goose island IPA tasted soooooo good afterward. Biking and a good beer. Makes me a jolly good fellow.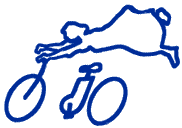 Unfortunately we got home and my MIL had called. Doc wanted her at the hospital to get a cat scan. She didn't go because she couldn't get hold of us. Couldn't call a cab because she is down to only 80,000. 00 dollars! Betty...... Call a cab. You know we would be home eventually. Sigh.