March bustles in on windy feet
And sweeps my doorstep and my street.
She washes and cleans with pounding rains,
Scrubbing the earth of winter stains.
She shakes the grime from carpet green
Till naught but fresh new blades are seen.
Then, house in order, all neat as a pin,
She ushers gentle springtime in.
Author: Susan Reiner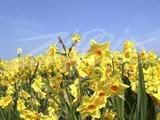 I wandered lonely as a cloud
That floats on high o'er vales and hills,
When all at once I saw a crowd,
A host, of golden daffodils.
- William Wordsworth

Spring shows what God can do with a drab and dirty world. ~Virgil A. Kraft
Yup, it's spring and I LIKE IT. The birds noisy chirping, the wind has a warm edge. Song birds. It makes my mood soar. Of course the fact that today is the first day of my long stretch off helps.
Stretching in bed and slowly opening my eyes.
"Oh.... your awake"! Rick says
Scared the crap out me..... Yes, I am awake. And he's off. Telling me all about the news of the day. I think he gets starved for conversation during the day while my son and I sleep. All the things he has witnesses or heard throughout the day come pouring out. Before my coffee.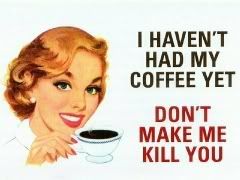 Oh well, nothing can get to me on MY DAY OFF. Except my package didn't arrive. That I paided priority mail prices for 2 weeks ago! For 2 day delivery 2 WEEKS AGO. IT ISN'T HERE YET....GROWLLLLLLLL.
Otherwise I am ready for my day. Finishing my coffee so I can go out and play in my planters and get them ready for the day. I can't wait.
Flower season. Yippy. Spending a fortune of plants, trying to keep those cute little deer from eating them, watching them bloom with color and scent. I love this time of year. The hardest part is waiting until the right time. Do it to early and your running out there covering them half the time or losing half your plants. Do it right and with in no time you have large hanging baskets of lovely flowers. I will have to visit my flower journal and see what I planted last year so I can see if I want them again.
Outside the window the scruffy looking deer stroll by. Cranky momma must have had her babies as she looks like she is nursing. And she looks crankier then ever. I look cranky as I see her stop by my bluebonnet bed and start nibbling on the new growth. Tapping on the window to try and scare her away, she just looks up and snears. What ya going to do about it lady. Darn attitude. Maybe I'll turn into a hunter I yell. Yah Right. You can't even kill a drink must less a beautiful animal like me. Snort.
Well, time to get dressed and go out and play. Have a great day everyone.