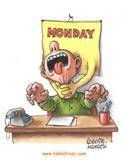 Yup, it's Monday and I realize some of you have to go to work. Sorry about that. But hey, I'm off, yippy.
MIL called last night and said she was so sick she had to go to the hospital. The more I talked to her the better she sounded, she always sounds in tears and near death when she calls, and she decided after we talked that she wasn't feeling bad enough to go to the hospital after all! She may be going for a CAT scan today though so my day may be spent at work.
It is suppose to be 80 degrees out.
It would be perfect for it. But, she hasn't been feeling good for quite awhile. I want to find out if it is something serious. Its so hard to tell with her because she always thinks she has something, but this time she might be right. I know she isn't feeling good when she doesn't want to come over while Rick grills pork steaks.
No sales this weekend. Not good. There is an auction coming up next month and I want to have some extra money to spend as they are going to have some really nice things. I love auctions but unfortunately Rick hates them. I hate going alone. Sigh. Pam, come visit next month.
Well, time to get in the shower. If she goes for her cat scan it will be early so I should get ready, maybe could get a ride int afterward.