Well, How am I suppose to get ready for my ride if it is going to rain all week? The good thing though is according the weather channel it is not suppose to rain the day we do the ride and is suppose to 81 out. I hope the trail isn't to soupy.
I am bored to death today. The weather is gloomy and I am stir crazy. I thought about going to Tea, SD and wandering around their great antique malls, but it quite a distance to go to just get rid of some boredom. Even Rick thought that sounded kindof fun and he usually doesn't care for that. I am between books, should go to the library and my house is clean. Now if I was a good little dieter I would go to the gym and work out but Sundays are bad there. All the muscle men and women showing their pecs and enough silicone implants to float the planet.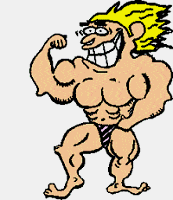 And me sweating to the oldies
In the old days when my grandchildren were around I would get them and Mackenzie and I would do some baking while Rick and Gaby bonded.
I will have to get my act together if one day of inactivity is killing me. What will I do this winter. Since we gave up TV years ago you can't spend your days mindlessly watching some show on the tube. Usually I read or work on puzzles, the harder the better. I don't feel ready for that though. I want to do something that required moving around. I want to ride my bike. Its addicting. Hi my name is Julie and I am a cycling addict! So what to do. I need some things at the store. Maybe I should go shopping. Yah thats it, go spend money I don't have, that always makes me feel better. See ya all later!