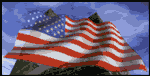 I remember sitting at the kitchen table drinking my coffee when I saw the news. The horror of the images on the screen will remain with me forever.
I called my children to tell them I love them. I cried. I was happy I didn't have to work that day as my heart and mind were too shook up.
At first I was so shocked and disbelieving and then so angry. Angry at the cowards that would kill so many innocent men, women and children.
I am still so angry. Not so disbelieving anymore as we now see every day how these cowards continue to kill innocent victims including their own women and children.
And I will not stand down, I will not ever forget and I am now and will always be proud to be an American

Check out this site, there are some stirring video's
9/11 Tributes and September 11 Tributes to the Victims their Families and the