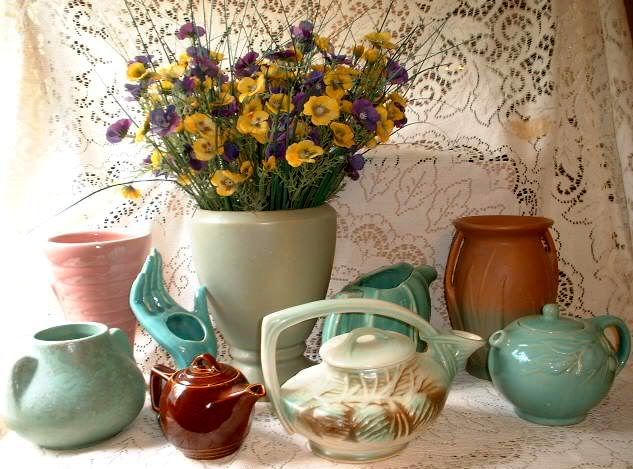 Above is some of my collection. I am going to make my store logo with that picture as I think it is a nice grouping. Aren't they lovely and all McCoy.
We are having a heat wave today. 25 so far and climbing and it is only 8
They are however predicted 4 inches of snow so I can't get too excited. I am guessing there are what....45 days left of winter give or take. This too shall pass. Quickly I hope. My furnace is still squeeking along and we might be able to make it too warmer weather yet before he replaces the part. I sure hope so. I have a friend who gave me the name of a local man who does repairs on the side that might be able to get us a furnace at a good price. I should at least price them so I know how much it would be.
My son and grandkids might get to visit next month. I am keeping my fingers crossed, but won't believe it until I have them in my arms again. It has been so long. This is the longest I have ever gone without seeing my son or grandbabies. He would like to move back but unfortunately his wife is pretty happy there. I know it would save them money to live here as they wouldn't need daycare and its less expensive. Hopefully I will win that lottery and we will all live close together. One of these days I will have to start buying tickets. Can't win if you don't buy. I always see it as a way the government gets more money out of you though so I have a hard time buying them.
Not much to say about my knee. I am getting pretty darn tired of it I tell you. I squat to get something off the floor and the pain is bad enough I have trouble getting up. I told Rick I may need a rail by the stool to help myself up if this pain doesn't get better. I didn't think I would need something like that for at least 30 more years And I was down on my knees cleaning something up I spilled and let me tell you, it was like crawling through broken glass. So this is really getting old. They do say the bike riding is good exercise for the knee, but I hate a stationary bike. So boring. But I will do what it takes to get over this. But I do feel pretty bad going on about this. Here people in J-land have serious problems and I go on an on. Just ignore me.
I sure hope it doesn't take them long to decide on the store. I suppose they will make the decision on my long stretch at work. I want to know NOW. Patience is not a virtue I have.
Well I will close on a bad joke.
What has wings but can't fly?
A dead bird. See...... I told you it was bad, LOL.