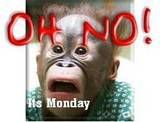 Well we finally got dug out. We have around 8 inches in places and no sooner do we get our driveway dug out the plow comes buries us in again. Some idiot in a 4 wheel drive just insisted on going on our road before it was plowed. Now remember we had rain before the snow and it is warm so not only did he leave huge ruts he got stuck in my ditch, road on my yard and took out one of my expensive shrubs. Wish I had seen the idiot.
Well I was a good girl and did do all I said I was going to do yesterday. Got lots of pictures taken and some items listed. It takes so long but once they are all listed I can relax. Then I went to bed last night and the furnace was really making a racket. We are still trying to squeak by with the old fan but I think we are losing. I turned the heat down to 63 so it wouldn't run as much. We are so used now to having the temp at around 66 that anything higher seems too hot.
My knee feels so much better today. Sitting on the broken chair must have been what got it so acute again. Yah. The throbbing pain was really getting to me. I can put up with quite abit of pain if I have to but prefer to know it will go away soon. So I am glad it did.
Well, they are predicting more snow tonight. We didn't have the ham yesterday, wouldn't thaw so we are having it today. Today I plan another B & M cleaning day. If you have been reading my journal you know that means Bi--H & Moan cleaning day. Hubby is already planning his escape. Take care all.
Check out this site. Some beautiful pictures. I love nature.