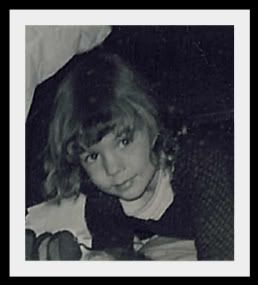 Me, The Gramma
Mackenzie, the granddaughter. Do you see a resemblance?
So today starts my week off. It is going to be a busy week,but still I should have some R & R in there. My last night wasn't bad so things are good.
First of all my hubby got BIL to sign the papers. He was being so weird and made us make copies to give him plus copies of the phone bill he has to pay. Remember.... this is a man who squats in other people property. He has all these egg crates full of papers. Old medical records, court records, letters, everything he has gotten as a receipts, bills, mostly unpaid, divorce records x 3. Like he is recording everything for when he writes his book. He has about 6 of these milk crates. All filed with little post-its all over them. Color coded. Its a sick thing with him. Piled in corners around him... his entire life fitting in milk crates. He sits there and goes through it all the time remembering past crimes against him and filing them in accordance to the damage they have done to him. I am probably occupying an entire milk cartoon these days, LOL. It is disturbing though. Pathetic and disturbing. When he showed up at my MIL's door those many months ago this is what he dragged with him. This and some clothes. His entire life in milk crates.
This is also pretty typical of a sociopath. They think their life if so important and they tendto do these weird filing things. He fits the profile to a tee. If I wasn't so closely effected this would be an interesting study.
Anyway. Getting closer to getting him gone and my son to his new home. The lawyer still has not sent the eviction papers. BIL must have found out they were coming as he is gone most of the time. I wish the lawyer would get busy. Why is he delaying. Today the house was appraised and tomorrow the auctioneer comes. 13 days until the auction. I still have so much to bring over. Time to get really busy and get everything done.
The weather here is rainy and wet. Please please please let there be dry weather for the action. Please! No bike rides or anything this week. I have too much to do anyway. I am going to see the doctor next week. I have to bring Zoey to the vet. I am getting a cold. I have a party to go to Saturday. Meeting Tuesday. Man we have way to many meetings. Bubble bath. And I feel the need for a perfect rose so Rick needs to buy me one. That about covers it. Oh...and clean clean clean. I am still working on my clutter. And I got a new marble. Actually it is a paperweight that looks like a marble. So cool. I will show pics tomorrow.
Thats about it. Now I am off to iron and get ready to go out to eat. I am not cooking. I want a cold beer and a spicy meal. Yummy.

Oh, sad news. The eagles have lost their eggs again. No babies this year. It is too late. They are not sure what happened but the mother ended up eating the eggs. Once they become non viable the mother will eat the eggs to replace the calcium she used to make them. Darn. I wanted baby eagles again this year. Lets home next year is better.