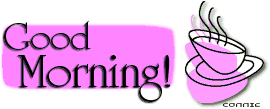 Yesterday we went on a
great bike ride
. My toe didn't bother me at all so today we want to go for a longer ride. One with hills as I have to start getting ready for that. Times just flying. We will be on the
trail in the Black hills soon.
I can't wait. I ordered some bike shorts and we both are getting our bikes in to get tuned up for the ride. Rick is having trouble with his brakes and I want mine oiled and adjusted.
Today, except for riding we have no other plans. Of course I could clean house, but it isn't going anywhere. Later we are going to try and get hold of my BIL and get the 400 he owes me. Now that he has his money...and owes me some of it ....we haven't heard a word from him. Before he got his money and wanted some we got calls everyday. Typical. Of course he always thought I had money running out of my ears. What tipped him off. My paint peeling house or my 16 year old car? Giggle. The rumors nurses are made of money! Remember I am in Iowa, state of the lowest paid nurses in the country. Lower then Guam and the Virgin Islands.
My toe actually feels a little better today. So I will just hold off on the doctor for now. As long as I don't bang it again I can live with it. I can even get my bike shoes on. What else do I need?