I went to my MIL's today and got the hutch. I got rid of my desk which I did really like but wasn't practical and replaced it with her hutch which hold more of my pretty things. Someone asked me where I keep my marbles.....well some of them will be here now.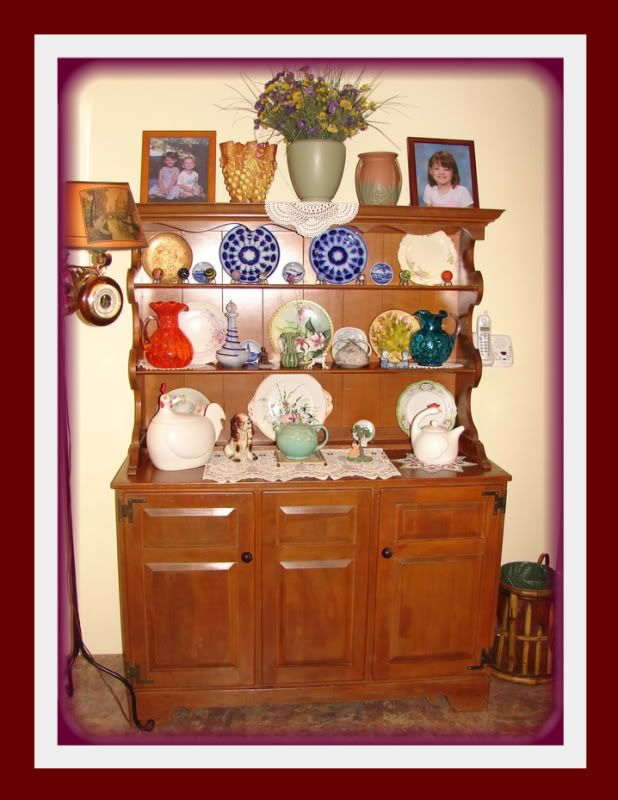 It fits perfect in the kitchen where my desk was. I can keep some of my kitchen items in there. The bad thing is now where do I keep the things I kept in my desk like stationary, stamps, labels, pens, stapler, tape, paper clips, ink, blah blah blah. maybe I should get rid of all those things. Some of the plates were my MIL's, some were some I collected, the beautiful orange pitcher Rick gave me for my birthday a few years back, my new chickens, my wonderful dog statue. Things I like. So what do you think? Perfect for my house.
I asked BIL if he had found a place to live yet and suggested the Y. Can single people stay there anymore? I did tell him they won't sell the house with him in it. That ticked him off but I would hate for him to be out of loop and wantto keep a dialog going with him. Thats my BIL speak by the way. Lets dialog, in the loop, irons on the fire, all means delay delay delay, Spoken by someone who has had lots of therapies in the past. LOL. Anyway, got lots done today. Work tomorrow. Fun fun.
I made Zoey some peanut butter biscuits the other day. Really easy and lots cheaper then store bought. Take care all.