2 cannibals were sitting around the table eating.
First cannibal.....I don't like my mother in law.
2nd cannibal.....Thats OK....... just eat the potatoes.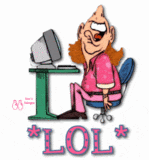 Sorry, sometimes the stupidest jokes make me giggle the most.
2 more nights to go. Yippy. It was busy last night. We didn't have a lot of patients, but what we had were very sick and kept us running. I was charge last night and was sorely tempted to change my name by the time I left. I felt torn in 20 directions last night. My wrist unfortunately didn't survive the night and is very painful today. It feels like it locks and I have to break it loose which hurts like....well you know.
Rick is lying here in A-fib again. In a way that is good because hopefully now he won't be in it next weekend when we are up in Minnesota. I am praying for nice weather. Please don't let it be hot. Ever slept in a tent on a hot humid day? It ain't fun. Maybe I'll lose a ton of weight from sweating.
If you have ever visited my bike journal lately you saw my ride though town showing all the art work. Some idiots have been vandalizing them. Now that just really ticks me off. You try and make your town pretty and some kids with nothing better to dowith their time act like jerks and ruin it.

They almost caught them once. Also someone is setting fires to peoples homes here. Almost burnt up an elderly couple. The husband was bedridden. It was in one of our century old homes. What is wrong with people. I just wish I could catch one of the jerks, bad wrist or no bad wrist I would give them a piece of my mind.
My MIL is still hanging in there. Slowly getting weaker. Spending more and more time resting. Still no pain which is a blessing.
Next week Zoey will be spending the time we are out of town at the vets. He is going to check her over and see what he thinks. I hate putting her in the kennel as she is spoiled with her meals and Rick makes her a real feast each meal, they won't so she won't eat.. Maybe she will lose some of that weight.
Hope everyone is enjoying the weekend. Should I end with another bad joke?
What has wings and can't fly?
A dead bird!