We finally got off yesterday and had a beautiful ride. I didn't bring my camera and am kicking my butt now. I could have gotten some great shots. We went to Adams trail and rode around that. The short trail is only about 6.7 miles. When we got back to the parking lot we had decided to keep going and hit the rural highway. There is very little traffic and it just looked like a nice ride...and on pavement which was nice.
Up the road there was a crop duster. I swear this small yellow plane went right over my head a couple of times. I felt I could almost have reached up and touched him. They go so low. I could feel the breeze from him flying overhead so close. Scary but cool. They look like they are going to crash any second. So I wish I had my camera. We rode to the overpass and then got on another long lonely highway. That one we rode down to the next overpass. The closest thing I could think of for getting my hill legs going. The next overpass was more traveled but that loop brought up back to Adams where we finished our ride. 12 miles.
Of course by the time we got started it was hot. My brain felt fried. We went home and cleaned up and went out to eat at the river and listen to live jazz. Got a lovely bottle of chardonnay wine and I had blackened Walleye. Yummy. It was a perfect day.
This morning I am NPO. Nothing by mouth as I am going to get my cholesterol checked along with my fasting sugar. That is for my wellness thing for work. I am hoping I have lowered my cholesterol as it was higher then it should be. I am craving a cup a coffee but sigh. Soon enough.
Well since I didn't get any pictures on the ride, the baby deer were in the yard last night. Aren't they cute.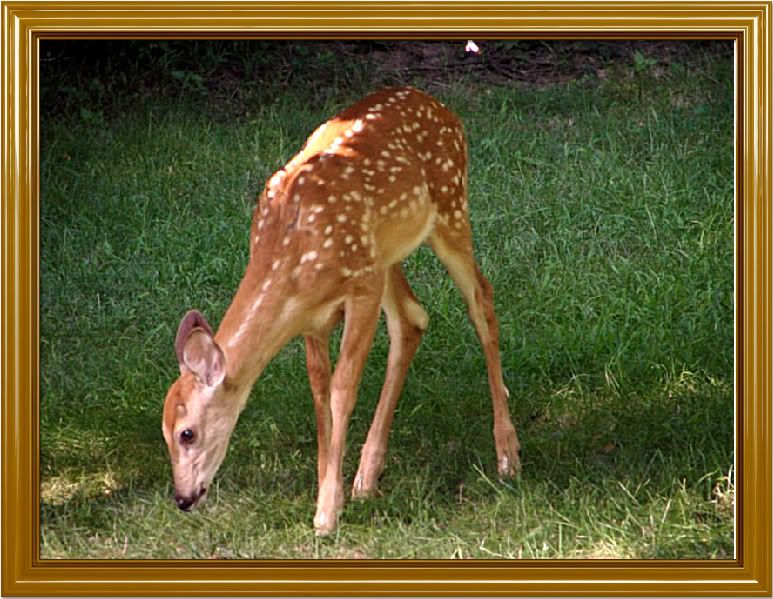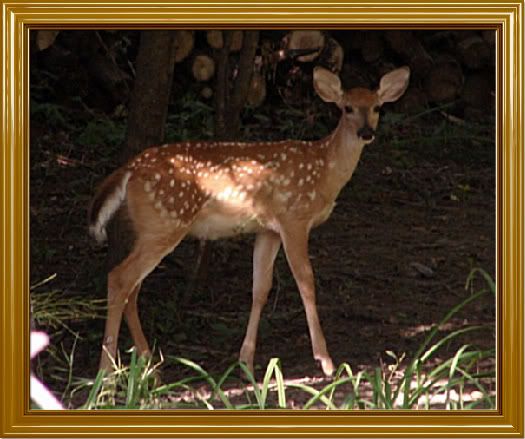 Momma was no where to be seen but I bet she would have shown up real fast if I had tried to pet one.
Well, time to get ready to go. Have a great day all. I am getting my test, riding my bike and buying my camera. The Cannon I have decided....or...