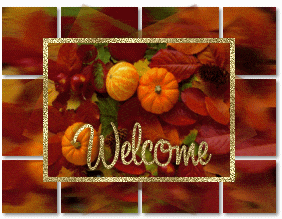 The storm knocked my cable out until a couple of hours ago. I didn't think it was that bad.
So today has been weird. First of all my dog is doing some really weird bizarre things. Things she never did until she got sick. She won't go onto my grass. She won't leave the pavement unless forced. To take her out to go to the bathroom we have to go to the front yard by the cement driveway. She hops to each paving stone until she reaches the porch. Then she goes over the porch and jumps until she is in my orange lily flower bed and there and there only, she will go to the bathroom. Not number 2 mind you......oh no, for that I have to drive her down to the river and let her walk there. There she will walk on the grass. She just doesn't like our grass. Now I have never sprayed my lawn as I don't want her licking off the chemicals. Go figure. It gets stranger even. I couldn't get her to eat the special food. You can just feel the bones under her fur. She has lost 6 pounds, lots for a dog. I couldn't get her to drink. So I have been experimenting and come up with some things that she seems to like. I have to use a new clean bowl with cold fresh water each and every time I want her to drink. I have to use a new clean bowl to put the food in and I have to warm it slightly to get her to eat. If I don't do those things she just won't eat or drink.

Now she never did any of these things before she got sick. The dirtiest mud puddle she could find on walks she would try to drink out of. Although I am willing and happy to do whatever it takes, I sure hope when she is better she gets over these weird quirks.

The vet has never heard anything like it, especially this grass thing and he had to chuckle, but I bet he wouldn't be so amused at 2 am driving down to the river. Sigh. She looks so cute though and tonight is doing better. Even allowed a biscuit or 2.
I made a really good soup, wild rice with fresh chicken, not the chicken my BIL got, at my MIL and she had soup, a small piece of pie and some fresh pear. I can cook when I put my mind to it. Soups are easy also. Then back home to feed Zoey again. Every 3 hours. She is supposed to eat 2 can's, but so far I have only been able to get 1 down her. 3 biscuits though, LOL

So I am today feeling opportunistic about Zoey. She looks brighter and even wanted to play! Yippy. Keep those prayers coming as I think they are working.