God promises a safe landing, not a calm passage.
I got to my MIL's house yesterday in time to see the hospice nurse. Didn't do any changing, and we both agree we are getting down to days.
Rick was quiet. The stress and lack of sleep is really getting to him. I was really worried about him the other day when we had the same conversation 3 times. Now we have done that, but he did not remember it when I told him we are just walking around repeating ourselves. He needs some mental stimulation badly. You sure don't get it from TV these days. I told him you don't use it ya lose it. And he was snappy. My MIL has been getting up every 2 hours during the night. She is weak enough he has to use the WC to bring her into the restroom. She falls right back to sleep and he lays there unable to sleep.
I told him he seriously needs a break and to let me spend the night while he comes home. He needs to just take a break. The 2 of them snap at each other all day. She says. Get me my lunch. He snaps only if you ask nicely. She snaps, I don't feel like it. Its like 2 children the way they are acting. She plays him and that gets him upset. Lift my feet, I can't lift them she says. Then when I come she flings her leg up to her chin to show me her edema. I just shake my head.
Rick won't change spots though. I think he is afraid I will hurt my back again and not be able to work, LOL. I told him he has to find a way to cope with this and the way to handle nights like that is to nap every single second you can. If she is napping, he needs to nap. A sleeping Rick is a grouchy Rick. And told Betty to stop calling wolf until she really can't lift her legs as it is causing resentment. Behave yourselves the both of you. Don't make me lay down the rules, LOL.
Seriously she is getting so weak. she started out eating a sandwich. Then only a half of a sandwich. Then a half of the half. Yesterday just a half of the half of the half. I told him the cancer wasn't going to kill her, it was the starvation. No one can live forever on the calories she brings in. I would guess its only about 300. She won't drink the ensure or boosts anymore.
So today I told my son to take his Dad to the movies tonight and maybe out to eat. My MIL and I will have a quiet evening. Now to see if Dad will do it.
I work tomorrow.
Usually the census is down on the day of Thanksgiving but by that night we start getting the admits. Especially on my floor. So here is my lecture today. If your on a fluid pill for congested heart failure don't not take it for a couple of days because you want to travel without having to find a bathroom. You'll be sorry and probably come visit me. Don't eat more at one sitting then you usually eat in 3 days. Especially if you have a tricky heart. You may come see me. Don't eat the salt and nuts and chips if your suppose to watch your sodium, you might get to see my smiling face. And don't ignore that nagging chest heaviness because you don't want to ruin anyones dinner. You may see your maker instead of me.
OK, enough of the soap box. Hope everyone has a wonderful Thanksgiving. I have much to be thankful for as I am sure we all do. Just have to remember it everyday and count my many blessings.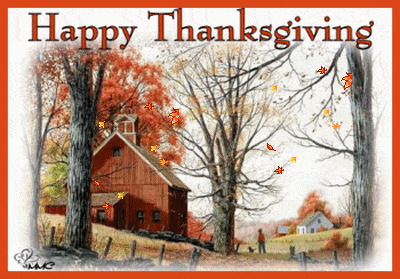 And tomorrow we are suppose to get snow. Now that doesn't please me with my van out of commission but it should be pretty if nothing else. Please all drive careful in those first few snowfalls. Take care all.