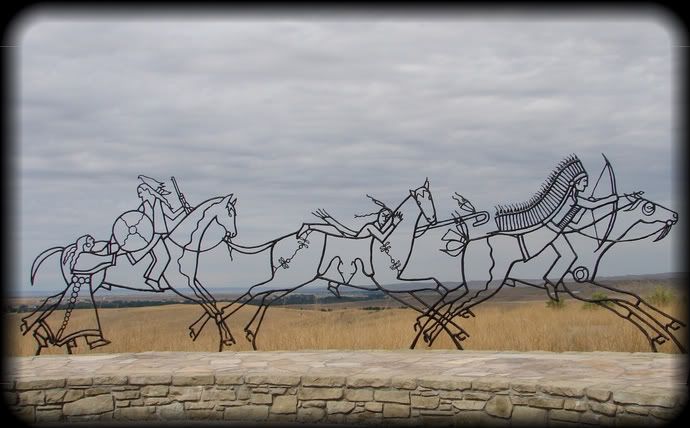 The above picture was from the Battle of Little Big Horn National Park at the Indian Memorial site. Very cool sculpture. Very thought provoking park.
Well, we didn't go out of town this weekend after all. I cleaned my basement out as it needed it and then last night we went to the roller derby. We are sponsor's. It is fun watching the girls out there skating away and now that I know how they score I can really get into it. A couple of the woman on the team are from our hospital and I work with one of the players. Heck, 30 years ago I would have loved to do it. I was always good on skates. Now a days I would probably break if I got slammed down to the ground as often as these women do. It was a fun night though.
Now I am nervously awaiting Ricks return. He is out for a motorcycle ride. He always leaves early and never lets me know which way he is going. The phone is still here so he can't call. His bike is old, but he keeps it running very well. I worry about the other people on the road. So I always get a little tense until he gets home. He has had 4 accidents and it was always the car's fault. Remember his hit and run a couple of years ago?
Anyway silly of me but I do just feel better when I hear him returning. Today I am going to go get a plant for my planter Luke gave me for my birthday. It is very pretty and I want a special plant to put in it. My back is out so I am taking it easy today. Don't ya just hate it when you do a little weeding and some cleaning in the basement and just doing that little bit causes your back to go out. At least it could have been after doing something wildly fun like rafting down a raging river and a night of hot sex. Not weeding. Life is weird sometimes.
Would you still believe I am going through pictures. I decided to do a new journal of the vacation so Rick and I can remember it. So I am writing it out and adding pictures. Slow work. When I am finished if anyone wants to read it and see the shots let me know. Boring to most unless you were there.
Well, guess I had better get busy doing things. I am getting my outdoor plants ready to come in for the winter soon. I think it might be a snowy cold one. They are getting so huge it is difficult to find room for them indoors anymore. My jade tree is huge as it the cactus. And I have to get rid of the buggies that move into the soil during their outside time. Don't want the buggies inside.
Take care all. Hopefully will get a bike ride in this evening.